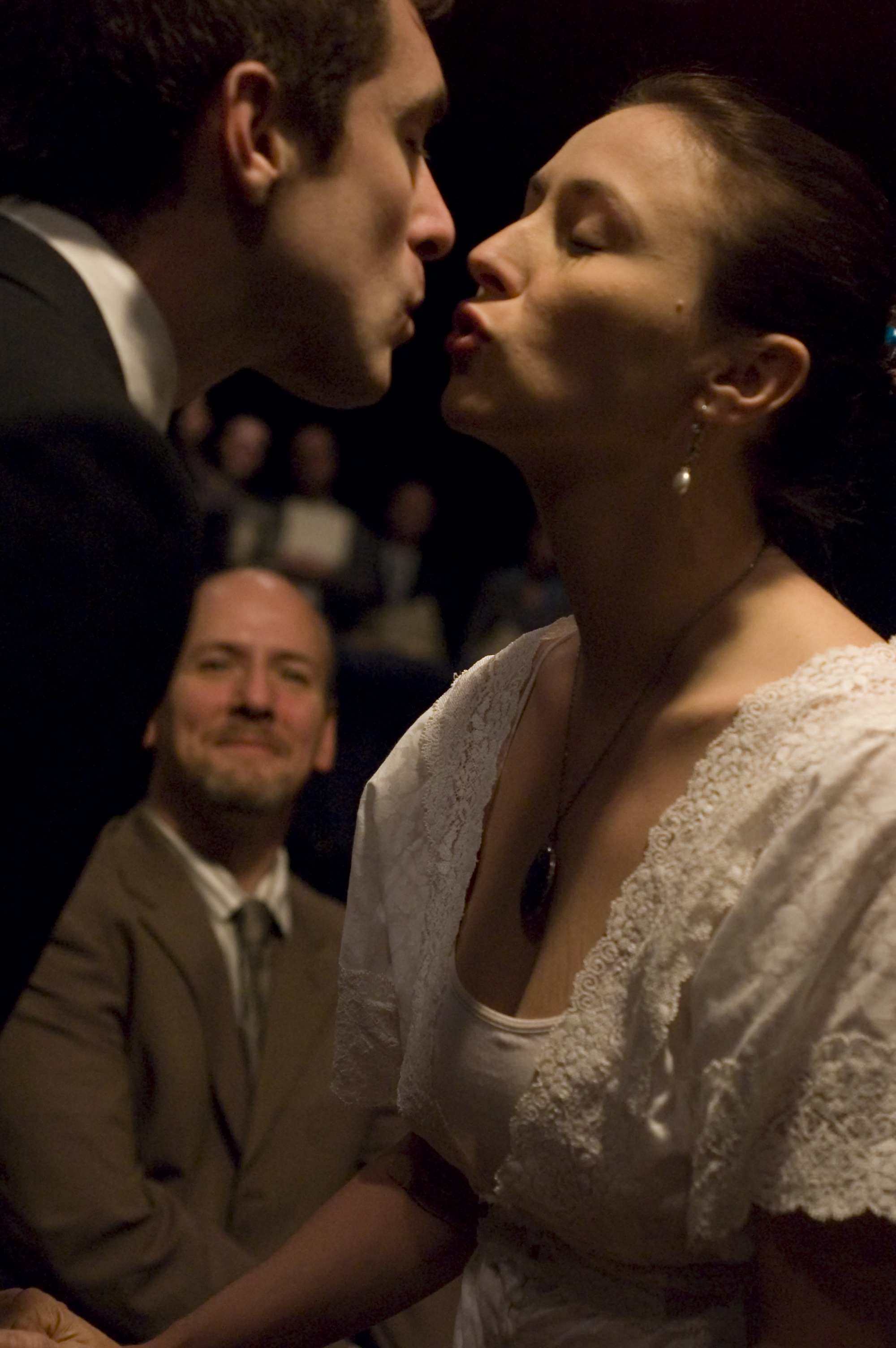 RECOMMENDED
It takes some real imagination to shed new light on a shopworn theatrical warhorse that you thought you knew inside-out, but David Cromer's staging of Thornton Wild's "Our Town" is able to achieve that rare and remarkable feat of making a classic so fresh as to seem as if you are experiencing it for the very first time.
A remount of the Hypocrites surprise spring hit that closed while shows were still selling out, the production is back for a second go-round. If, like me, you missed—or yes, even avoided—this the first time around, whatever you do, take advantage of this limited opportunity to rectify that situation.
Cromer himself plays the Stage Manager who tells you the story, straddling sensitivity with an almost ethereal detachment as he does so. The Hypocrites ensemble as the residents of Grover's Corners make you believe that they are living out the ordinary lives of New England townspeople a century ago as they interact with each other and the audience. A bond is forged between us, and then, as a couple of kids begin to date and gradually fall in love and marry, we are there, as their honored guests and we experience their agonies and ecstasies right along with them.
All of this, of course, is done in the subtle style that Wilder specifies, with virtually no scenery or props, but unlike many past productions, the actors are so convincing here at creating their surrounding universe that we buy into Wilder's convention completely. What an unexpected and splendid shock it is to our senses it is when, at the play's climax, we leave the town cemetery to go back to a day in a character's childhood that, like all memories that stay with us, is staged in such a way as to make it more vivid than the seemingly more banal world of the everyday here and now. That shattering effect is the theatrical equivalent of a black-and-white Kansas Dorothy opening the door to a Technicolor Oz, and it is so jarring that you end up transported: indeed, virtually teleported.
Yes, the morale of this play is something most of us have heard since we had to read it back in grade school. Yeah, little things matter. Life viewed from death means savor it, it doesn't last. Sure. Yawn. The brilliance of this production is that it doesn't tell you that, it supplies you with your own virtual experience of doing exactly that in such a profound way that I found myself taken back to a similar day in my own childhood that the character experiences (okay, it was her twelfth birthday, my tenth). I suddenly remembered things from that day that I had not thought about in decades. And judging from the transfigured faces of audience members surrounding the action, there were multiple and simultaneous epiphanies going on as well. Theater just doesn't get any better than that. (Dennis Polkow)
Through October 26, Chopin Theatre Studio, 1543 West Division; $20-$25, (773)989-7352.