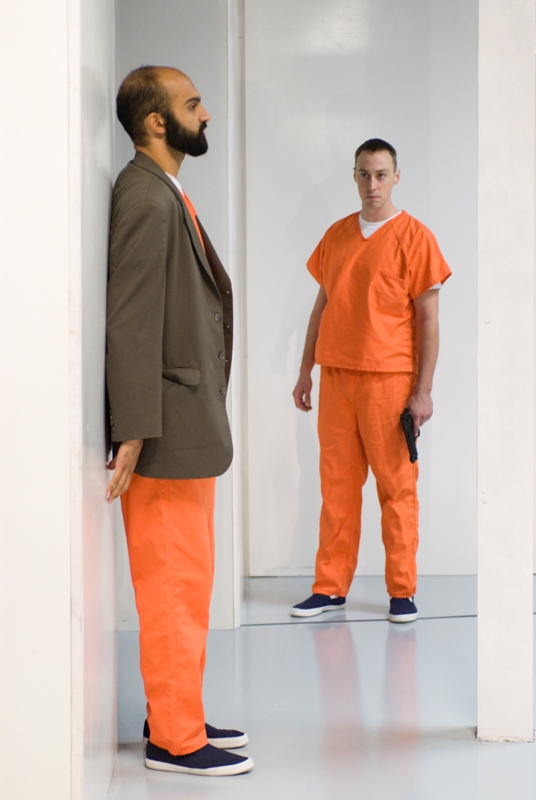 RECOMMENDED
No theater company has transformed itself in the past year as completely and successfully as American Theater Company. Quality work aside, the company sometimes verged on irrelevancy. All that has changed under artistic director PJ Paparelli, whose savvy instincts have resulted in smart, modern plays that are wry and potent and incredibly entertaining. Check out the company's current production of "Celebrity Row" (by Itamar Moses) and see for yourself.
But first, a lingering problem. Enough with the bush-league opening-night chaos. Time for ATC to grow up, stop papering the house and lose the twenty-minute delays. And please fix the nasty flood zone in the women's loo. If ATC wants to be a major player, it better focus on the audience experience, as well.
That said, "Celebrity Row" (directed with sharp energy and a canny understanding of the issues by David Cromer) might be the most intellectually engaging show since Paparelli took over. Moses examines the well-thought-out criminal imperative—born of grievances both legitimate and not—in a political excavation that feels very of-the-moment. Moses understands the ways in which raging ideologies and unexpected comedy can exist side by side.
The play takes place in late 1990s at the Colorado Supermax prison—"the Alcatraz of the Rockies"—where four notorious criminals are housed. Unabomber Ted Kaczynski. Oklahoma City Bomber Timothy McVeigh. World Trade Center Bomber Ramzi Yousef. Latin Kings gang leader Luis Felipe. Their block is dubbed celebrity row. This part is true.
The play itself is fictional—wholly imagined scenarios that never played out in reality—but it contains a larger truth about the notions that shape our identity as Americans. Who are we as a society—and more importantly, who do we want to be? It's a hell of a question, election year or not.
The four men—all with hyper-articulated reasons for their crimes—battle and debate with a civil rights attorney (the effective Kelli Simpkins) who is working to improve conditions at supermax-type facilities. In other hands, her role might be grating—annoyingly righteous and sanctimonious—but Simpkins creates a woman who is more than a mouthpiece. With her lithe-jock body language and Southern twang (the character is from North Carolina but Simpkins is more Holly Hunter Texas), she is a no-nonsense pawn with some decent reasoning behind her actions.
The issues are nothing new—a fury born of frustrated impulses, directed squarely at America's flaws—but Moses lays them out like a Frank Rich column. (My one complaint: A few heavy-handed poetic scenes at the top have a zone-out effect and add nothing to the play.) There is something comforting about the script, tense and violent as it is—something comforting in the idea that people can have real arguments over real dilemmas, instead of chasing a tail that doesn't exist.
Cromer's work here as a director is a serious bump to ATC's game—a phone call actually sounds like a phone call (props to sound designers Andy Krumeich and Josh Schmidt)—and his cast of men physically resemble their real life counterparts. Larry Neumann, Jr., prone to actorly ticks, sheds all that baggage as Kaczynski. It's his best performance to date. McVeigh, as played by Christopher McLinden, finds the three-dimensional human behind the notorious cold stare, and Joe Minoso's Felipe is a wily crime boss from the mold of "The Wire's" David Simon.
As the man who bombed the WTC in '93, Usman Ally makes the strongest impression. Behold this rational thinker with untold pools of anger. In a flashback scene, he plays Simpkins' mother—a performance that exists in an altered dimension, achieved with little more than a pair of earrings and an entirely different demeanor. Ally and his co-stars act the tar out of this thing. ATC has come to play, and they mean business. (Nina Metz)
At American Theater Company, 1909 W Byron, (773)409-4125 or atcweb.org. Thur-Fri 8p, Sat 3p and 8p, Sun 3p. $35-$40. Through Nov. 16.