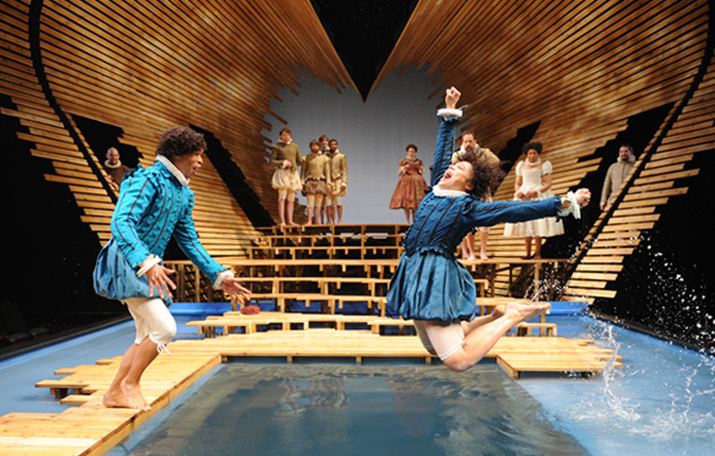 RECOMMENDED
Shakespeare's "Twelfth Night," often considered the Bard's best and funniest comedy, was conceived as a midwinter diversion related to the end of the Christmas season, January 6, or Epiphany, which in Elizabethan times was characterized by revelry, masquerades, charades, trickery, servants and masters trading places and chaotic partying, something akin to New Year's Eve, April Fool's Day and Halloween combined.  Josie Rourke's water-themed production made a splash, literally, opening in the midst of a spring blizzard that reminded us that you can schedule a Christmas-themed production virtually any time of the year in Chicago and can still get Christmas-like weather.          
British director Rouke, recently appointed artistic director of London's Bush Theatre and making her Chicago debut, has chosen to set and costume her production in Shakespeare's own Elizabethan era, something so uncommon stateside these days that the rare sight of hoop skirts, swords, tights and pantaloons are almost a bit disconcerting at first.  But no sooner has thunder crackled that the shipwrecked Viola (Michelle Beck) drops from the sky to become completely submerged in the large reflecting pool that takes up most of the stage, emerging from the water with her clothes wet, which is how most of the characters will spend the production.  Up on dry land, music (in this case a single violin, although later in the show augmented by guitar and voice) becomes the feast of love, a thought magnified by the presence of a set designed to form a large heart.  By the time Sir Toby (Scott Jaeck) enters, he decides to strip down and bellyflop into the water for a complete bath, and like a walrus in a zoo, playfully splashes around while doing so, drenching the unsuspecting rows around him.  The audience is never quite sure who will splash in or out of the production, and in one case, after Viola has decided to dress as a man to get a better job, she makes such a ferocious backwards splash that one of my reviewer colleagues who had a notepad in her lap had her notes so thoroughly washed away that the actress broke character and actually audibly apologized to her.
But for all of the novelty and irony of "Twelfth Night" playing out in a water theme park moved indoors within a theater at an outdoor Chicago pier, the production itself is actually quite traditional and the ensemble acting and comic timing first-rate.  Larry Yando's Malvolio is, as the text indicates, insufferable, although in Yando's hands, there is considerable subtlety.  When Malvolio scolds Sir Toby and his friends for their late-night revelries (here, a wild pool party) he takes on such a tone of arrogance and self-righteousness that his behavior virtually cries out for his subsequent comeuppance, although he is even harder to bear when he attempts to become charming and sexy, forcing smiles and parading his new wardrobe to become more attractive as a would-be suitor.  The element of recognition, of a brother and a sister dressed as a man being mistaken for one another is here dealt with as the Bard's own text indicates, that is, as an issue of androgyny rather than other issues often grafted on to this play such as cross-dressing and same-sex attraction.  (Dennis Polkow)
"Twelfth Night" plays through June 7 at Chicago Shakespeare Theater, 800 Grand Ave. (at Navy Pier), (312)595-5600. $44-$70.