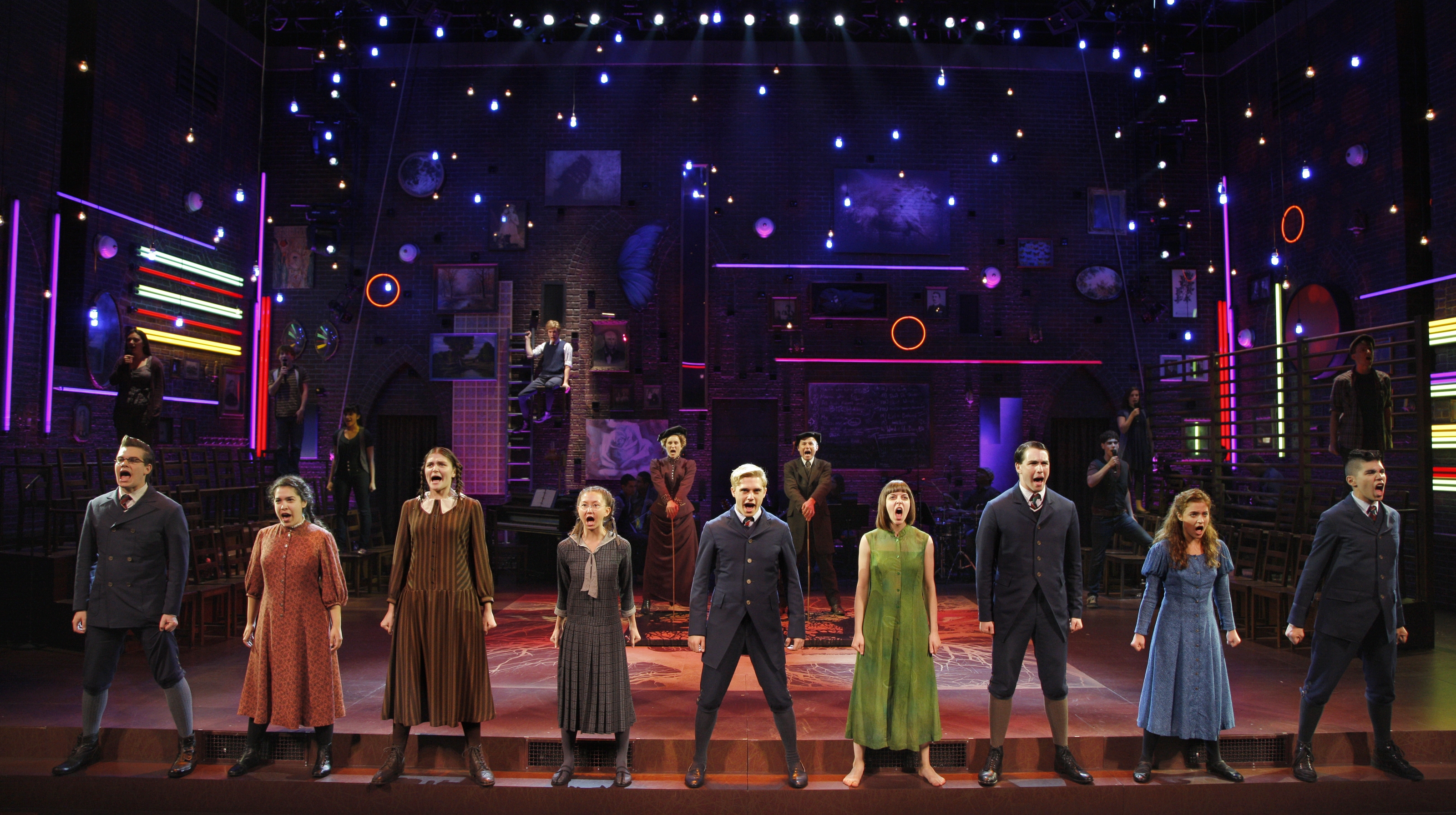 RECOMMENDED
Perhaps you've noticed the lack of daring and imagination being deployed in the Broadway musical as of late where most of the hot and not-so-hot "new" shows tend to (1) musicalize an already well-established brand-name film or other such property, (2) satirize a show-within-a-show with a nod and a wink or (3) string together a pre-fabricated soundtrack with well-established hit tunes.  The fact that "Spring Awakening" does not fit into these tried and true formulae for what makes a hit Broadway musical and yet became exactly that, would be enough reason to check it out, but happily, this unconventional show not only breaks the mold, but does so with considerable flash and style.
There are two simultaneous shows going on: the first is Steven Sater's adaptation of German playwright Frank Wedekind's 1891 Symbolist piece of performance art "Frühlings Erwache," which portrayed late-nineteenth-century German attitudes towards sexuality and the often tragic consequences that such repression bred amongst youth with such candor and graphic sexual and violent detail that it was banned at the time and has been censored in one way or another virtually every time it has been revived since.  The second is an energetic folk-rock extravaganza where the action is paused, the lights go up and the adolescents whip out microphones and sing what is really on their minds but in the music and vernacular of more than a century later.
The most fascinating aspect of the show, however, is the clever way that these two seemingly unrelated worlds are constantly juxtaposed and integrated.  Thus, a piano student who is attempting to keep his mind on Bach is having fantasies about his shapely piano teacher who bends over to correct his fingering, while another student is actually masturbating to her oral fingering corrections—"no, no, no: bring out the left hand"—a cutting-edge marriage of lowbrow and highbrow culture that is both funny and thought-provoking at the same time.
The "star" of the show is singer-songwriter Duncan Sheik's score, which not only serves as a constant emotional release for the tension of the drama, but has a contagious folk-rock quality and orchestration to it complete with acoustic guitars, cello, acoustic bass, acoustic piano, et al, combined with pop hooks and a strong emotional connection to the characters and the dilemmas that they find themselves in.  The young cast extends this by pouring out their hearts to the audience (both those onstage who are seated alongside the cast and those out in the theater itself), often almost breaking character and practically pleading with audience members as they do so.  And these are not "show" voices, these are unisex and breathy pop-rock voices full of adolescent angst.  The ability to deliver such material so effectively and in such an exposed manner (often literally) means that sometimes you wish that cast members had more gravitas in pivotal dramatic scenes without music, but the impact of songs delivered with such passion more than compensates.
"Spring Awakening" is to our current "ought" decade what "Rent" was to the nineties and "Hair" was to the sixties: a rare moment of unbridled youthful energy bottled up and released nightly on stage.  (Dennis Polkow)
"Spring Awakening" plays through August 16 at the Ford Oriental Theatre, 24 W. Randolph, (312)902-1400. $25-$95.