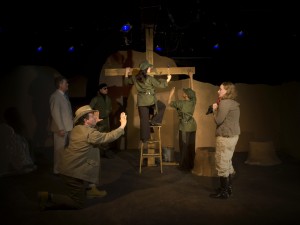 RECOMMENDED
"Resurrection Blues" was Arthur Miller's next-to-last play before his death in 2005 and, reportedly, the playwright had been tinkering with it right up until the end. I can believe that.
Miller's contemporary tale is set in an unnamed Latin American republic in which political insurgency is brewing, thanks largely to a sermon-spouting figure (here amusingly christened Ralph) whom the locals swear can walk through walls and light up like a giant Christmas tree. (We, the audience, never see Ralph, but are, along with the characters in the play, periodically subject to his incandescent glory, a stage effect warmly evoked by Chris Corwin's dramatic lighting design.)  The ruler of this republic, a dictator suffering from erectile dysfunction ("resurrection" blues, get it?), thinks he can squash the uprising by crucifying (literally) this mettlesome messiah. And when an American pharmaceutical conglomerate pays $75 million for the exclusive rights to broadcast the crucifixion, within which it will plug "dignified" advertising spots for everything from athlete's foot to underarm deodorant, the general dreams of the financial boon to his third-world country that will underwrite everything from plumbing to clean drinking water to accessible dentistry for the nation's hard-working prostitutes.
If this sounds like an enjoyable acid-tongued critique of the media and consumerism, that's because it is. If it sounds like a modern-day parable concerned with religion, faith, politics and morality, that's because it's also that. Not surprisingly then, the tone of the piece fluctuates—oftentimes erratically—between the extremes of satire and melodrama, its characters presenting themselves one moment as intellectual philosophers propounding the kinds of big ideas for which Miller is famous, and the next as comic buffoons cracking a lame joke that wouldn't be out of place on a television sitcom. If you know Miller's broad output, it's as if the author here is stylistically struggling to reconcile his younger and older self—the allegorical and dogged social activist younger Miller of "The Crucible," "Death of a Salesman" and "All My Sons" versus the experimental and morally equivocal older Miller of "Mr. Peters' Connections" and "The Ride Down Mt. Morgan." Eclipse Theatre Company, which is presenting this Chicago premiere under the direction of artistic director Nathaniel Swift, follows the mission of "one playwright—one season," and it's my bet that the immersion into a single writer's canon has helped them realize where "Resurrection Blues" lands on that trajectory, how it thematically revisits many of the issues Miller had been dealing with all of his life, and therefore why it's jam-packed with so many seemingly contradictory ideas and ambiguities.
Ultimately, the most admirable (and to some, maddening) aspect of "Resurrection Blues" is that it can be read as pro- or anti-religion. It may be taken as a celebration or a condemnation of capitalism. Or as a justification for, or indictment of, the morally questionable sacrifices made at the expense of the individual for the sake of the greater whole. The play never makes clear what the Messiah-as-human-Christmas-tree visual phenomenon is, if it's anything at all (A vision of Christ?  A trick of the imagination?  A sunset on the horizon?).  There's a post-9/11 indictment against countries rushing to war under false pretenses.  There's the chance some viewers may recognize the small case to be made for foreign intervention as a catalyst for something better. This will inevitably annoy and confound those audience members who want answers from their plays and who wish to leave the theater with a tidy message, and yet this is exactly what makes Millers penultimate play so playfully engaging and yet intellectually stimulating.
Swift recognizes this. So do his smart and hard-working actors. They commit themselves with abandon to whatever playing style the scene calls for, and yet seem to have an overall understanding of the many ideas that crowd "Resurrection Blues." To be fair, I think the actors are at their best with the play's naturalistic aspect—there are some scenes that really pack an emotional and intellectual wallop. But they'll need a few more performances before hopefully nailing the play's satirical demands. Nonetheless, this is a focused, funny and intellectually engaging staging content to remain as ambiguous in its meaning(s) as Miller's script is, and one that thankfully doesn't sully the author's well-earned and posthumous reputation. (Fabrizio O. Almeida)
At Greenhouse Theater Center, 2257 North Lincoln, (773)404-7336. Thu-Sat 8pm/Sun 3pm. Through May 9. $20-$25.