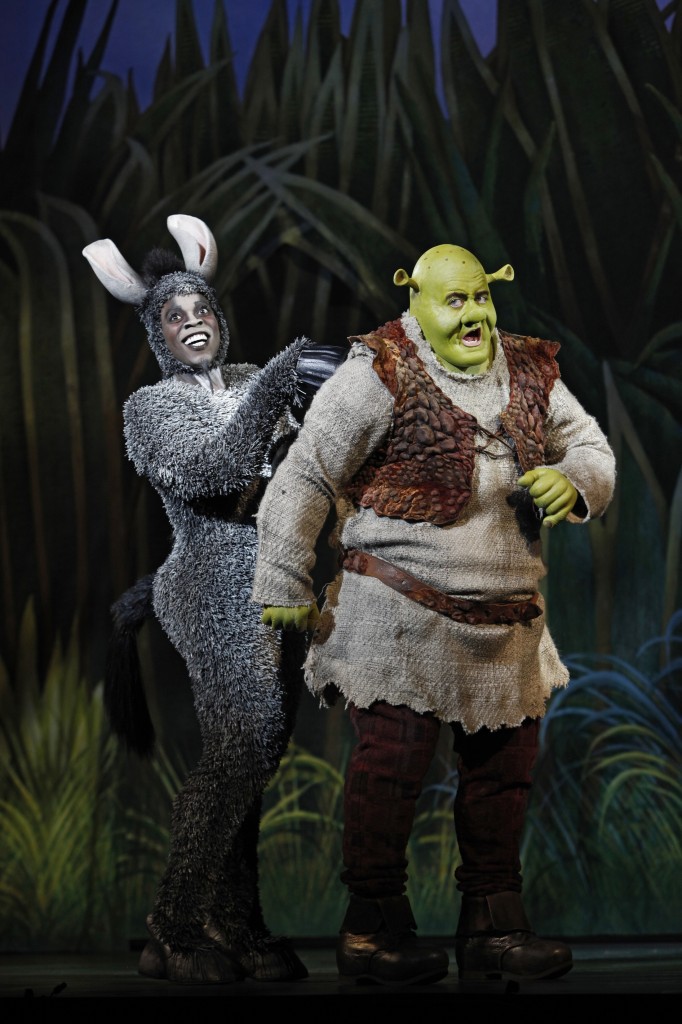 RECOMMENDED
There have been at least two musical adaptations of Tod Browning's 1932 "Freaks, " a film about circus sideshow performers. Even so, "Shrek the Musical" comes the closest to musicalizing the dark spirit of the unsettling climax of that film when the "freaks" accept an outsider as one of their own with unison cries of "We accept her! One of us! We accept her! One of us! Gooble gobble, gooble gobble! We accept her! We accept her!"
Likewise, the evicted fairy-tale characters of "Shrek" decide to unite and "out" Lord Farquaad, a closeted fairy-tale dwarf who does his best to hide his shortcomings throughout the musical (David F. M. Vaughn portrays him on his knees with a false set of short legs dangling in front of his camouflaged thighs). It is a daring moment of social action made all the more powerful occurring when it does in the show and having the fairy-tale characters carrying protest signs and singing like an angry mob ("Freak Flag.") That is a scene you will not see in the original animated "Shrek," and is one of many charms unique to "Shrek the Musical."
Yes, everything that made the original 2001 DreamWorks animated film such a phenomenon is here, from the talking donkey (Alan Mingo Jr.), the fairy-tale princess (Haven Burton) and a host of fractured-fairy-tale inhabitants, to the Dragon (Carrie Compere), a newcomer to the show controlled by four puppeteers. But there are plenty of things here that were not part of the film, such as meeting Shrek's parents and Shrek as a child, where we learn, in scenes paying homage to James Whale's "Frankenstein" movies, exactly how Shrek is made self-aware of his ogredom by the terrifying effect he has on others.
The biggest difference is a heartfelt score that immensely intensifies the emotions of the story. That will be no surprise for those of us lucky enough to have experienced Court Theatre's stunning "Caroline, or Change" in 2008, for the composer, Jeanine Tesori, is the same and the gospel chops she so contagiously brought to that score are also in high abundance here. This is not your average cartoon-musical knockoff—this is a property that has been thoroughly rethought, reworked and enhanced effectively for the stage and stands solidly on its own. With the exception of "I'm a Believer" used for a curtain-call finale and "Welcome to Duloc," all of the songs in "Shrek the Musical" were written expressly for this version and fit the characters and the story like a glove.
That means that Shrek (played by Chicagoan Eric Petersen) and Burton's Princess Fiona are not just standing around in colorful costumes imitating their animated counterparts, but communicate a love story between two abused and maladjusted individuals with both pathos and humor, no easy task. We feel for them, and we cheer for them as each makes a journey of self discovery and self acceptance, a theme also mirrored in the unlikely and unconditional friendship between Shrek and the Donkey and of course, the resentment felt by the show's villain, who cannot accept himself as he is, and his maltreatment of others like himself, i.e., the fairy-tale creatures that he persecutes. The stage version also enhances the upside-down slant on the "Beauty and the Beast" theme in that it does not require its romantic couple to have to transform physically, only mentally, the source of all true ugliness.
These are great messages not only for a family property, which unlike "Billy Elliot," "Shrek the Musical" clearly is, but an inspiring message for all of us at any age. That all of this is communicated with such style, color and substance makes "Shrek the Musical" a rare and special cross-generational experience. (Dennis Polkow)
Through September 5, Cadillac Palace Theatre, 151 West Randolph, (800)775-2000. $25-$90.