As the economy slowly lifts us back to our feet and we look around, we see a remarkable sight: a performance industry in Chicago that survived the worst recession since the Great Depression wholly intact. Sure, we had a few brushes with death, and no doubt a few very small, very new theater companies threw in the towel, as they do even in good years, but unlike many other cities across the country, we're in pretty good shape. How good? The League of Chicago Theatres issued a press release last week proclaiming our town as America's theater leader, with more than 250 professional theaters, including four Regional Tony Award winners, and a combined annual budget of $250 million serving five million audience members. Add in our thriving dance community, a comedy scene that's the envy of the nation and two world-class opera companies and you'd have to say we're doing pretty damn good. But neither the economy nor any cultural organization is fully out of the water yet, and the dramatic uncertainty injected into the political sea by Mayor Daley's decision to call it a day means Chicago's performance community will need some steady hands at the wheel these next few years. Accordingly, for this edition of The Players, we've broadened our horizon and taken a closer-than-ever look at the individuals in charge of the financial fitness of our local institutions.
Written by Brian Hieggelke, Sharon Hoyer, Dennis Polkow and Neal Ryan Shaw
1 Richard M. Daley
Mayor, City of Chicago
We didn't think much of it when we got the invitation: Chicago's Theatre District was turning ten, NEA chairman (and longtime theatrical producer) Rocco Landesman was coming to town and an event was being held to honor Mayor Daley. Since politicians like to take credit for all the successes on their watch (and dodge blame for failures), journalists develop a certain immunity for civic suck-up sessions, and this sure sounded like one. But as one speaker after another discussed the mayor's role in jump-starting the District, and reminded us what a quixotic quest it seemed at the time, it started sinking in that this mayor really cares about the arts in general and theater in particular. (That his daughter Nora Daley Conroy chairs Steppenwolf's board should have offered a clue.) He spoke passionately and eloquently of the value of the arts in education, and reminded the gathered press that he'd been, um, second-guessed when he first pushed the North Loop Theatre District as a concept. We left newly awakened to this aspect of our mayor, no longer content to give his cultural commissioner Lois Weisberg sole credit for the accomplishments of his administration. Oh yeah, that Millennium Park and its Harris Theater were a pretty nifty idea too, come to think of it. For a month, downtown Playbills were to feature the mayor's likeness on their cover instead of the likes of "Billy Elliot" or "The Lion King." Just as soon as we were getting our heads around this, came the shock heard round Chicago: Mayor Daley was not running for re-election. The arts community shuddered collectively, especially in these uncertain times: would the next mayor be such a champion? If not, what then? Though nothing has been announced, it's likely the aging Weisberg would step down at the same time. As if to underscore the collective fear, shortly before Christmas, the Department of Cultural Affairs was restructured, and several stalwarts of the arts scene were rumored, incorrectly it turns out, to have lost their jobs. If power abhors a vacuum, then Chicago's arts leadership is learning the hard way how much they're already missing the outgoing mayor.
2 Roche Schulfer
Executive director, Goodman Theatre
To list all the accomplishments of Roche Schulfer, who's been executive director of the Goodman Theatre for an astonishing thirty-one years, would require a book, but here's a handful of highlights: he led the development and move of the theater out of its long-running space behind the Art Institute and into its current facility, giving legitimacy to the then-nascent vision of a North Loop Theatre District; he instituted the annual tradition of "A Christmas Carol," which has not only become a Chicago institution but has reshaped the December calendar of nearly every Chicago theater large and small; he helped found the League of Chicago Theatres; he has overseen the production of more than 330 plays. But Schulfer's fans rarely cite his accomplishments when singing his praise; instead they point out his down-to-earth demeanor and his willingness to share his experience freely with others just getting their start in theatrical leadership. As one accomplished local artistic director put it, "The accessible, approachable leader of our biggest theater not only commands the giant ship that is The Goodman with grace and humor, he appears to be the best boss in the world."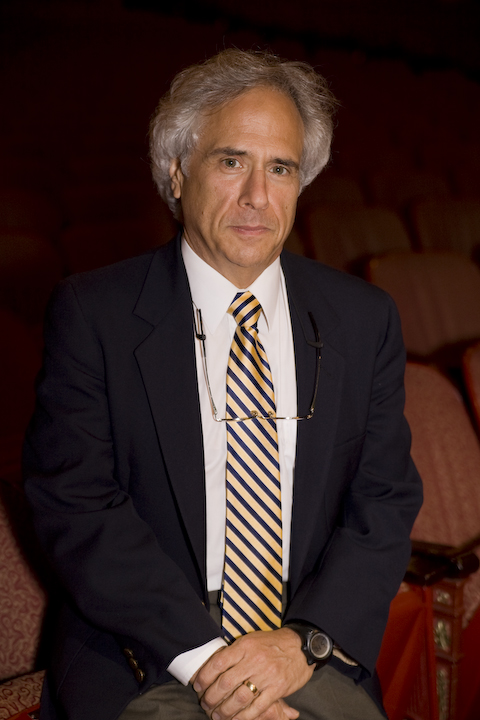 3 Lou Raizin
President, Broadway In Chicago
It's hard to believe that Broadway In Chicago is only just over a decade old, so pervasive a presence in the cultural life of Chicagoans and its visitors has it become, not only with smash long-running crowd-pleasers like "Wicked," but also as a launch pad for Broadway's next big show, like "The Producers" and, more recently, "The Addams Family." With the "Wicked" cash machine now mostly in its past (a return engagement at Christmastime broke some box-office records, proving there's still life in that old witch), BIC's been more innovative as of late, transforming the Auditorium Theatre into a giant nightclub for the Argentinean performance sensation "Fuerza Bruta: Look Up," and more recently taking over the old Drury Lane space in Water Tower Place and turning it into the Broadway Playhouse, which will allow it to stage more intimate shows, like the upcoming musical adaptation of Studs Terkel's "Working." When Raizin's not running Chicago's highest-grossing theatrical operation, he might be found behind the camera: he's an accomplished fine-art photographer, with gallery representation in Chicago, Santa Fe, Palo Alto and Dubai.
4 Martha Lavey
Artistic director, Steppenwolf Theatre Company
Martha Lavey has Steppenwolf firing on more artistic cylinders than ever. Recent additions to the ensemble bring both added star power (William Petersen) as well as enviable future potential (Tarell Alvin McCraney). Likewise, the stage has sizzled with a crafty mix of the classics done in true Steppenwolf style ("Endgame," "Who's Afraid of Virginia Woolf," "American Buffalo") and new plays that seem to hit the ground already prepared for takeoff ("The Brother/Sister Plays," "Detroit," the upcoming "Sex With Strangers"). Their new-play development and young-adult channels deliver productions that in themselves are the envy of much of the theater world. And Broadway's thirst for the Steppenwolf brand wasn't sated by the recent one-two Tracy Letts punch: Earlier this month, they announced that "Detroit" was heading east as well. And, just to fill in her spare time, Lavey acts with some regularity, most recently alongside Petersen in "Endgame."
5 Barbara Gaines
Artistic director, Chicago Shakespeare Theater
We all knew that Barbara Gaines could bring clarity and contemporary relevance to the wordy world of the Bard, but who knew that as a newbie to the opera world that she would take it by storm with a stunning directorial debut of Verdi's "Macbeth" at Lyric Opera? A whole new palette and career have been opened up to her that is likely to expand well beyond operatic adaptations of Shakespeare.
6 Andrew Alexander
Co-chairman, chief executive officer, president, The Second City
In one of those stories made for TV, the then-young Canadian working in Chicago got to know Second City owner Bernie Sahlins—this was before "Saturday Night Live" made sketch comedy a national sensation—and made a deal to take over the flailing Toronto operation for next to nothing. Before long, Second City Toronto was outshining its big brother in Chicago, nurturing the early careers of the likes of Gilda Radner, John Candy and Dan Aykroyd, and launching "SCTV," which had a critically acclaimed run on network television. By 1985, Alexander and his partner Len Stuart bought out the whole operation and he moved to Chicago. Since then, Alexander's continued to develop television projects for the entity—though one could fairly argue that all television comedy is in some way a Second City product—and has overseen the evolution of The Second City from a "wild and crazy" fermenting pot of creativity into the professional operation that today seems well-established to last into perpetuity as one of Chicago's—and America's—cultural institutions.
7 Ashley Wheater
Artistic director, The Joffrey Ballet
Replacing the founder of a high-profile ballet company is no easy task, but since Ashley Wheater took the helm of the Joffrey in 2007 he has managed to pay due homage to the artistry and leadership of Gerald Arpino while breathing new life into the company's repertory with works by innovative young choreographers like Edwaard Liang and Christopher Wheeldon.
8 Tracy Letts
Actor and playwright, Steppenwolf Theatre Company
How can you not simply hate Tracy Letts at this moment? His "August: Osage County" is just now starting to come down from its global cloud-hopping, his "Superior Donuts" leapt from Chicago to Broadway and, just to remind us of how good he is, his much earlier "Killer Joe" had an acclaimed and financially successful run at Profiles last year. OK, so the guy can write. But he really rubbed it in our face by showing us that he's one of the city's finest actors as well, literally tearing up the stage in "American Buffalo" and then turning around and delivering an equally acclaimed if diametrically opposite turn as George in the current Steppenwolf production of "Who's Afraid of Virginia Woolf?" If he starts singing, we're throwing in the towel.
9 Renee Fleming
Creative consultant, Lyric Opera
Coups come in many forms, but none as soothing and more beautiful in every sense than having superstar soprano Renee Fleming be brought in on a cold, snowy December afternoon to charm the media and Lyric Opera donors with news that in a fiercely competitive opera world, the hard-to-catch diva will be singing loud and clear in Chicago for five years. The Faustian small print? She will be using her crossover sensibilities to select repertoire not only for herself, but for others, including bringing annual musicals and music of André Previn to La Scala West.
10 Phil Reynolds
Executive director, Dance Center of Columbia College
The co-curator for the Dance Center of Columbia College for more than a decade, Phil Reynolds creates, along with department chair Bonnie Brooks, compelling, diverse programming year after year for one of the best spaces in Chicago to see dance. Last season featured an interdisciplinary work by Alaskan storyteller/dancer Emily Johnson, a kabuki-contemporary hybrid piece by Yasuko Yokoshi, and a joint presentation with the MCA and Harris that brought the foremost Butoh company in Japan to Chicago, as well as performances by leading local companies Hedwig and Thodos Dance.