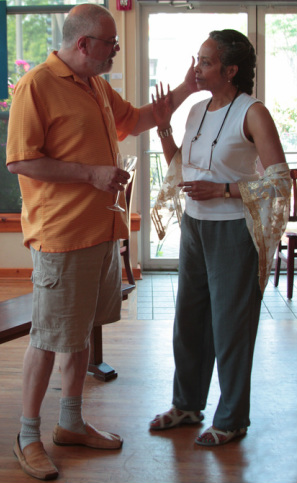 An ambitious work that attempts to not only tell a compelling human story but also ignite newfound amazement for a science normally thought of only in terms of esoteric equations, "Symmetry Breaking" takes a great deal onto its plate and breaks too far by the end for it to remain coherent. Talented physicist Samantha Braithwaite (Kitty Mortland) meets her college love Brady (Dan Ochoa) after she arrives at their alma mater to give a keynote speech on particle physics. In the ensuing conversation and reflection we see that their relationship was far more tumultuous than most, but with more courage perhaps they would have been able to go the distance. What is worse is that despite leading honorable lives since (Brady is also a veteran of the Iraq War, a fact which seems awkwardly grafted on to the rest of the play), they both retain the debilitating knowledge of what they lost and could have had. To the side are two unhappy professors (Duchyll Martin Smith and Tony Papaleo) with whom Samantha and Brady have previously crossed paths, but who occupy a far more significant part of their lives than it appears at first.
Despite its potential, writer and director Michael Brayndick allowed the play to simply get away from him thematically. While the program notes indicate that one of the prime personal functions of the play was to aestheticize theoretical physics for those who are merely bewildered by the terminology and mathematics, that laudable goal gets completely lost in a mass jumble of other themes and elements: the politics surrounding 9/11 and the Iraq War, infidelity, professional dissatisfaction and the prospects of female mobility in a largely male field, among others. Compacting this confusion are bizarre structural choices, most evident among them is the choice to have Samantha's and Brady's past selves acting out their college experience simultaneously with their present selves. Thrown in is what can only be assumed to be an even younger version of Samantha as she is first becoming enthralled by the universe as a whole, a gratuitous addition. The acting as a whole is fully up to the task and depth of the emotions present, but is sadly drowned in an ocean of elements designed to artificially up the dramatic ante and will only reach the most patient of playgoers. (Rob Underwood)
Raven Theatre, 6157 North Clark, (773)338-2177. Through August 26.