Though we publish a list of "players" every year, we alternate between those whose accomplishments are most visible on-stage (the artists, last year) and those who wield their influence behind the curtain (this year). Not only does this allow us to consider twice as many people, but it also puts some temporal distance between the lists. So, the last time we visited this cast of characters, two years ago, we were celebrating the end of the Richard M. Daley years in Chicago, fretting over a nation seemingly in the mood for a Tea Party and contemplating the possibility of a Latter Day Saint in the White House. Today, we've got a dancer in the mayor's office, the most prominent Mormons are in a chorus line at the Bank of America Theatre and the Tea Cup runneth dry. Call us cockeyed optimists, but things sure look better from here. And so, meet the folks who, today, bring us the best theater, dance, comedy and opera in the nation.
Written by Zach Freeman, Brian Hieggelke, Sharon Hoyer and Johnny Oleksinski


1 Michelle Boone
Commissioner, City of Chicago's Department of Cultural Affairs and Special Events
With a new mayor who once studied ballet and shows up regularly on the theater and dance circuit with his family, the local arts community had reason to be optimistic when Rahm Emanuel was elected to succeed seemingly mayor-for-life Richard M. Daley. Though Daley's star has been tarnished considerably these last couple years, his record on culture was surprisingly strong, as he emerged as a champion for arts education, especially through his late wife Maggie's pet project, After School Matters, but also in his championing of the North Loop Theatre District, which went from quixotic pipe dream to rock-solid edifice under his watch. And just as Rahm has big slippers to fill, so too his new head of the Department of Cultural Affairs, Michelle Boone, who's occupying the seat that the legendary Lois Weisberg practically invented. A longtime arts administrator in the nonprofit sector (most recently at the Joyce Foundation), Boone's first undertaking was rather formidable, as she led the creation of the city's first cultural plan in a generation. A massive project that incorporated dozens and dozens of public "conversations" and town hall meetings, the plan was certainly, expectedly a lightning rod for any and all of those who felt left out under Daley's more insular regime, but now that it's done, the real work begins. Will the Emanuel administration take the torch it's been passed—the nation's most dynamic theater and comedy scenes, a dance community that has soared in the last decade to heretofore unseen heights and an opera that is the envy of the world—and build an even bigger and better fire, or will it allow it to lose its spark? We'll soon know.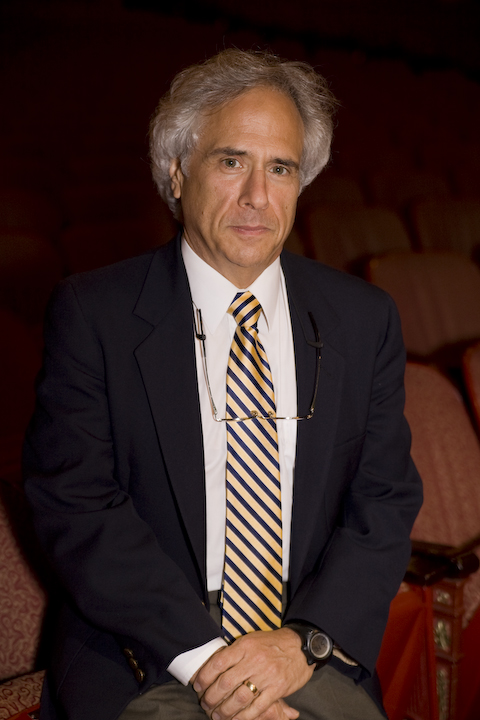 2 Lou Raizin
President, Broadway In Chicago
Inspired by the state's tax credits for filmmaking, at the end of 2011, Broadway In Chicago president Lou Raizin succeeded in his quest to get the State of Illinois to pass a potential seven-figure tax credit for shows that either establish long runs in Chicago or that begin their Broadway-bound journeys here. At the end of 2012, his company opened "The Book of Mormon" to box-office records at the Bank of America Theatre, and quickly extended the run into the fall of 2013. And on the Broadway incubation front, his company brought the high-profile Cyndi Lauper-Harvey Fierstein collaboration "Kinky Boots" to Chicago for its world premiere; this spring he'll do the same with the much-anticipated theatrical version of the pre-Broadway "Big Fish." Even in a cash-strapped state like Illinois, few are begrudging this tax break, since long-running Broadway shows in the Loop are magnets for tourism, and pre-Broadway premieres generate national attention, helping firmly establish Chicago as America's theater travel destination second only to New York.
3 Robert Falls
Artistic director, Goodman Theatre
"The Iceman Cometh" was a real game changer for The Goodman and for Chicago. Robert Falls' exhilarating production, which played to full-capacity houses its entire run, announced no Broadway ambitions and, despite a knockdown, drag-out rave from The New York Times' critic Charles Isherwood, none ever materialized. So, with New York off the radar, people came here instead. A lot of people. Audiences from forty-six states and eight countries saw the show, and Chicago became the envy of the nation's theatergoers. The production proved that the idea of this city as a theater tourism destination is most definitely not a pipe dream. And, after nearly thirty years as artistic director, Falls is as risk-taking and edgy as ever. Last season, he gave Spanish director Calixto Bieito his American debut with the expressionist, seductively politicized "Camino Real." And later this year, quite contrastingly, the Goodman will collaborate with Disney Theatrical on "The Jungle Book." Falls, an avid tweeter, has kept the eighty-seven-year-old company one of the most diverse and innovative in the nation, and shows no signs of slowing down.
4 Anthony Freud
General director, Lyric Opera
Lyric Opera, already among the top opera companies in the U.S., just got even better. During his first planned full season, the eloquent and astute General Director Anthony Freud has implemented some awesome new reforms. He spearheaded Lyric Unlimited, which enables the company to broaden their programming, spread out into the community and bring back new audiences to Wacker Drive. So far boasting "The Second City Guide to the Opera," an irreverent satire of the operaverse, "Popcorn and Pasquale," a beginner opera buffa for little ones and their parents, and "Cruzar la Cara de la Luna," the world's first mariachi opera—also to be performed in Pilsen and Waukegan—Freud's new program is as ambitious as it is joyous and celebratory. Of course, if you're already among Lyric's 26,000 existing subscribers, rest assured. Freud's first season in the Ardis Krainik Theatre has been uniformly terrific. Memorable highlights have included a particularly psychological, mixed-media "Werther" and a gargantuan, bloody, thrillingly sung new "Elektra." Long live passion, indeed.
5 Martha Lavey
Artistic director, Steppenwolf Theatre
Ask anyone what they know about Chicago theater, and chances are they'll say "Steppenwolf." Chicago-style acting is synonymous with the theater on Halsted, and Martha Lavey works tirelessly to keep it that way. The Broadway transfer of "Who's Afraid of Virginia Woolf?" starring Tracy Letts and Amy Morton drank itself onto nearly every New York critic's top ten list in December, and the show is bound to snap up a few Tony Awards come June. Already jam-packed with three unique spaces—the Upstairs, Downstairs and Garage—in February, Steppenwolf purchased the Ethan Allen store next door on Halsted for a whopping $6.4 million. Solidified plans have yet to be announced for the 18,000-square-foot building, but the theater bees are buzzing loudly.
6 Andrew Alexander
CEO, co-owner, Second City
If, as The New York Times claims, Second City is "a comedy empire," then CEO and co-owner Andrew Alexander is its king. And judging from the number of Second City alums that have gone on to comedy greatness (do we even need to name names at this point?), he may be something of a king- (or queen-) maker as well. Alexander has been with the Second City for almost forty years (as co-owner for almost thirty of those), and has expanded the brand not only within Chicago but across the country. Last year, Second City unveiled the UP Comedy Club, pushing Second City into the stand-up arena. He's a member of the Board of Trustees at Columbia College as well as the Board of Directors at the League of Chicago Theaters and has produced or executive-produced more than 200 Second City revues.
7 Ashley Wheater
Artistic director, Joffrey Ballet
In his six years as artistic director of one of the world's foremost ballet companies, Ashley Wheater has led the continued evolution of the Joffrey Ballet, striking an elegant balance of fresh repertory with pieces by emerging artists, revival of important masterpieces—like last year's deeply moving production of "The Green Table"—and adding works by big names to the rep. Wheater has excelled at challenging his versatile company and pulling in audiences, and done so by gazing at ballet through the daring American lens crafted by Robert Joffrey.
8 Jackie Taylor
Executive director and founder, Black Ensemble Theater
That so much drive, compassion, artistry, activism and positivity resides in a single human being seems utterly impossible. Until you meet Jackie Taylor, the incomparable founding artistic director of Black Ensemble Theater. Taylor's energy, never-ending joie de vivre and tireless initiative, last year amounted to a spectacular new $19 million cultural center on North Clark Street. The theater's gorgeous, eclectic wooden facade conceals an arena thrust stage that fits their beloved, biennial production of "The Other Cinderella" like a glass slipper, and seats twice their original audience capacity. While securing a nearly $20 million theater would earn a well-deserved nap for anyone else, Taylor is bustling about as kinetically as ever, directing three of the four productions onstage at BET this year. Founded by Taylor thirty-six years ago, Black Ensemble's mission, "to eradicate racism," remains thunderously powerful and urgent. Not unlike Taylor, herself.
9 Chay Yew
Artistic director, Victory Gardens Theater
Since joining Victory Gardens as artistic director in the summer of 2011, the Singapore native has become the poster child for Chicago theater's midlife crisis at its best—and worst. Best: an accomplished theater professional with a national reputation earned at the Mark Taper Forum in LA, as well as a playwright and director at seemingly every theater of note, ranging from the Public in New York to the Kennedy Center in Washington. Yew's hiring to take over for Dennis Zacek, who, alongside his managing director and wife Marcelle McVay, built Victory Gardens into a Regional Theatre Tony Award winner over a more than three-decade tenure, was a real coup for a theater signaling its plan to not only perpetuate its reputation for artistic excellence, but to take it to even higher levels. And artistically, Yew's shown signs of doing just that, with his lively production of "Ameriville" and universally acclaimed "Oedipus El Rey," both of which not subtly sent out the message that a new era of diversity was also at hand. Worst: Though there are few who wouldn't argue that the old Victory Gardens was getting a little fusty, falling off the essential list for Chicago's theater cognoscenti in the waning years of Zacek's reign, Yew effectively cleaned house in a manner wholly impolitic and shocking for a theater community that had heretofore prided itself on convivial congeniality and collaboration. First, the playwright's ensemble that had of late formed the backbone of the theater's mission was unceremoniously forced into "alumni" status; then beloved and well-regarded associate artistic director (and the local favorite for his job when it was open) Sandy Shinner was demoted. The business side was not spared either, as first marketing director John Zinn and then executive director Jan Kallish headed for the exits. At year's end little seemingly stood of the old Victory Gardens other than its shiny dwellings in the restored Biograph Theater, where Yew will continue to wage his artistically promising war in a space named after his increasingly diminished predecessors, Zacek and McVay. His fans, cheered by the promise of constructive moves like the enlistment of a new playwrights ensemble headlined by the likes of Tanya Saracho and Philip Dawkins, had better multiply fast as the Victory Gardens Yew inherited was hemorrhaging cash, to the tune of $1.7 million in losses over the two fiscal years ending in 2010 (the most recent tax returns available) with a shrinking budget that put it behind some much younger companies on the rise, like Lookingglass and Writers'.
10 Criss Henderson
Executive director, Chicago Shakespeare Theater
Criss Henderson sure has a lot on his pier. The twenty-three-year Chicago Shakespeare executive director has been talking up the company's plans for a third CST space, intended to seat at least 500 people. And they'll need the room because just last spring, the now-defunct Chicago Muse left more than $500,000 to Chicago Shakes to continue developing new musicals. Meanwhile, workhorse programs like CST Family and Team Shakespeare have made it so that twenty-five percent of the company's patrons are under the age of eighteen, and many young Chicagoans see theater for the very first time on the Pier. In addition to a fine array of Shakespeare, classics, classic-inspired plays and musicals, Henderson co-curates the vital World's Stage Series. Having formed a treasured bond with the National Theatre of Scotland and bringing back the seismic Belarus Free Theatre in early February, World's Stage saw two-time Tony Award-winning actor Mark Rylance performing his famous turn in "Twelfth Night" for Chicago audiences before Broadway even knew his name.