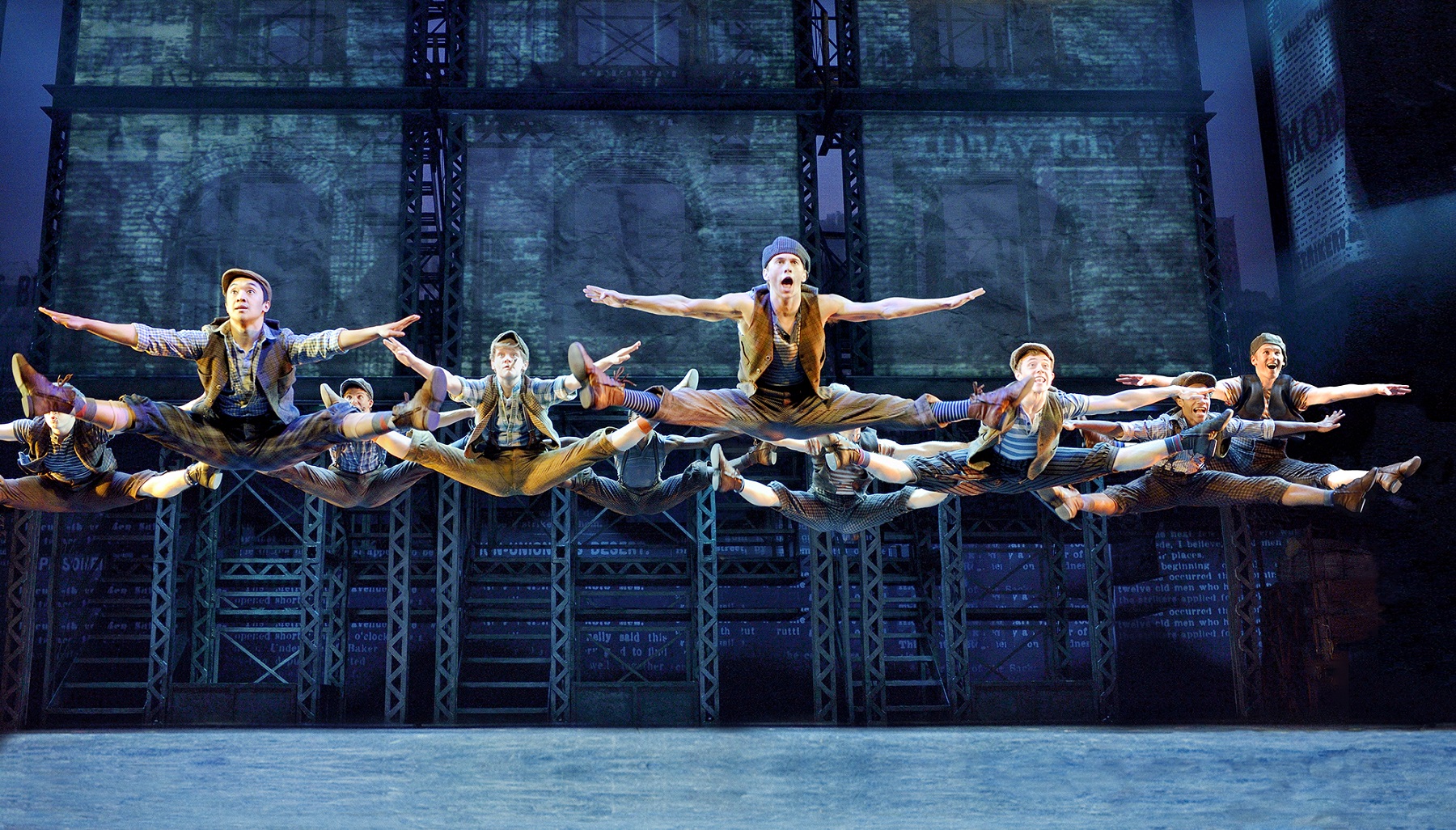 RECOMMENDED
It's easy to go into "Newsies" at the Oriental Theatre with a cocked eyebrow and a cynical smirk. The show, like the nineties movie it's adapted from, is so utterly sincere in its intentions and its execution that you can't help but laugh on occasion. When streetwise young toughs are crying for worker's rights one minute and then turning a triple pirouette the next, it's objectively pretty funny. However it is that sincerity and guilelessness that carries "Newsies" right into your heart. Pirouettes are awesome. So are topnotch Alan Menken tunes. To pretend like they aren't is just as silly as most of the stuff that happens in this show.
For people who aren't in the business of Christian Bale deep cuts, "Newsies" is your basic underdog story. It follows the travails of Jack Kelly (Dan DeLuca), a turn-of-the-century newsboy roustabout who leads the rest of his newsboy cohorts in an organized strike against the rate hikes instituted by Joseph Pulitzer (Steve Blanchard). In adapting the story for the stage, Harvey Fierstein has added in an intrepid reporter/love interest for Kelly, Katherine Plumber (Stephanie Styles). The characters are mostly drawn with broad, obvious strokes. For instance, there is one newsboy, Kelly's sidekick (Zachary Sayle), who goes about on a crutch. This is far and away his defining attribute. In fact, lest we forget, his name is literally "Crutchie."
But this is no gritty, realistic character study. This is a musical. It lives or dies on the strength of its songs, its singing and its dancing. And by those criteria, "Newsies" lives. Menken's songs (even the new ones) sound just as eighties-tastic as the day they were written for the 1992 film—you can almost hear him sipping from a can of New Coke as he scribbles down the notes for "Seize The Day"—but they are nonetheless triumphal, joyous anthems that you will be humming days later. Likewise, the cast have all been fitted with strong, crisp voices that suffuse the songs with the requisite amount of determined pluck.
And then there's the dancing. Oh the dancing. Many of the songs come equipped with long, instrumental middles that serve as nothing more than backing tracks for orgiastic bursts of athletic leaping, tapping, sliding and spinning. In fact, the dancing was so good that it led to an odd and unintended side effect. The big union-busting fight that Jack and the boys engage in with Pulitzer's thugs was massively disappointing. "How could they be losing?" I thought to myself. "I am one-hundred-percent certain that all of these guys could deliver a flying roundhouse kick that would knock those guys out cold! They were just doing them two minutes ago." But alas, the story demands that the newsies experience a setback. Still, free tip to anyone looking to reboot this reboot would: include as many "Matrix"-style fight scenes as possible. A cast like this one could certainly pull them off.
Then again, by that time, they might as well update the show entirely. One hundred years from now, "Newsies" will be "iPhone Factory Workers." If Menken and Co. have shown us anything, it's that corporate titans perpetrating abusive child labor practices is surprisingly easy to turn into toe-tapping family entertainment. But there I go again, getting all cynical. Like I said, it's very easy. (Alex Huntsberger)
Broadway In Chicago at Oriental Theatre, 24 West Randolph, BroadwayInChicago.com, (800)775-2000, $40-$130. Through January 4.