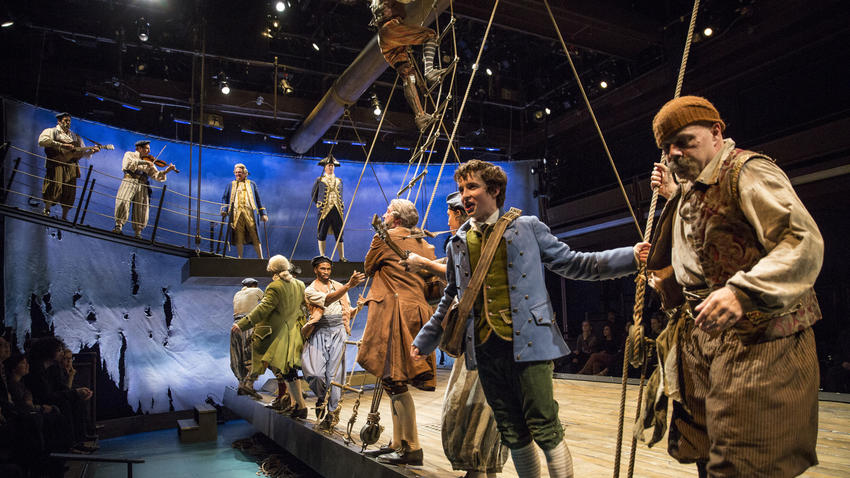 Audience members without their sea legs might be cautioned that Mary Zimmerman's new adaptation of Robert Louis Stevenson's "Treasure Island" could leave them feeling queasy. For when young Jim Hawkins (John Babbo) sets sail upon The Hispaniola in search of pirate treasure, the stage sets sail with him. Todd Rosenthal's set is a long ship's deck, complete with rigging just waiting to be climbed and when the story turns to the open ocean the deck begins to rock like a ship at sea. Propelled by cast members on the other side, the image calls to mind a gigantic pendulum, marking steady time as it carries Stevenson's seamen to their fates—some of them deathly final.
These moments of visual poetry are Zimmerman's calling card—many include sea shanties sung beautifully by the cast—and more of them would have been welcome. But the plot of "Treasure Island"  is not one that leaves many moments for reflection. From the moment that the rum-sodden Billy Bones (Christopher Donahue) stumbles into the inn owned by Hawkins' mother (Kasey Foster) the story is off like a shot. Soon enough, Bones is dead and Hawkins is in possession of his treasure map which he tries to deliver to the honorable Dr. Livesey (Andrew White). Instead, Hawkins finds himself as cabin boy on a voyage to find said treasure, which once belonged to the legendary pirate Captain Flint. And while the ship's captain, played by Philip R. Smith, is a trustworthy man, the ship's cook, played by Lawrence E. DiStasi, is named Long John Silver—and there's a reason that name is still famous today. The play contains gunfights, knife fights, cannon fights, double crosses and any number of sworn oaths. At two-and-a-half hours, it still feels like it's fit to bursting. Even those sea shanties double as secret montages, moving things along.
DiStasi's Silver is surprisingly life-sized, even slight. The character looms so large in the popular imagination but here he barely looms at all. Like the show itself, he doesn't quite keep up with our romantic expectations of such a classic figure. But he does mark a very steady time. (Alex Huntsberger)
Lookingglass Theatre, Water Tower Water Works, 821 North Michigan, lookingglasstheatre.org, (312)337-0665, $20-$95. Through January 31.