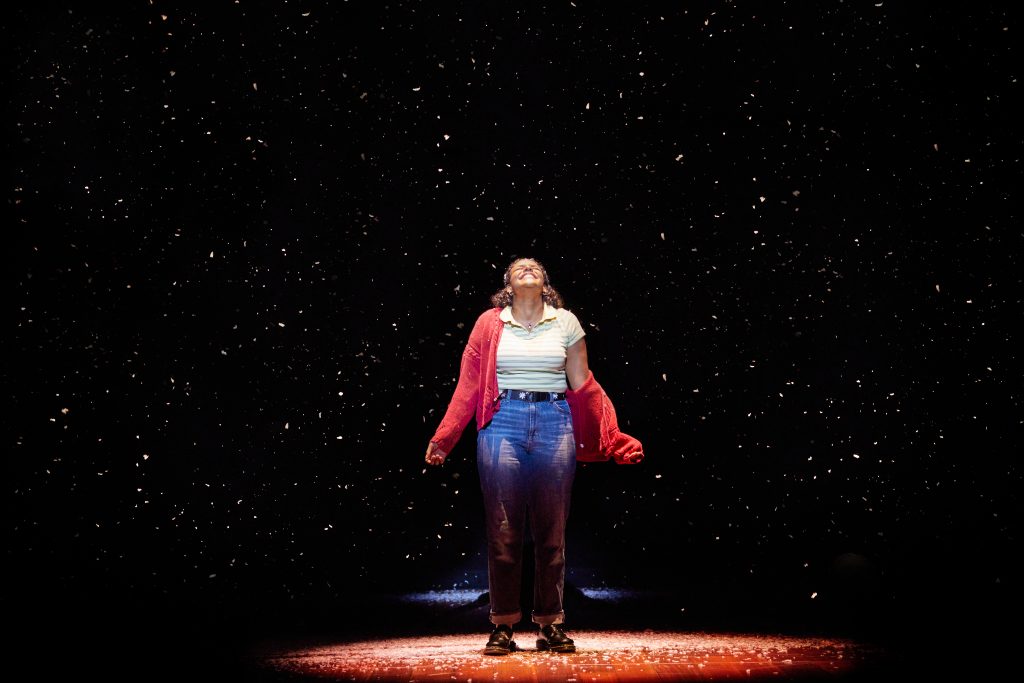 RECOMMENDED
The brilliance of "Life After," the musical about the family and circle of a self-help guru, manifests from so many directions that the show sweeps one magically, whimsically, sometimes tragically, in a wonder-ride that seems to fit all of life on stage. It's a moving show, but I don't ever recall a show moving so many ways—dramatically, musically, visually, verbally, emotionally, intellectually, temporally—and certainly not at the accelerated pace of "Life After." Britta Johnson, the Toronto-based creator of the show's music, lyrics and book evokes a fugue state for her characters, who cycle through the stages of grief and the joys of remembrance following the traffic death of Frank Carter, on a wintry Winnipeg night. Carter, played with blithe, charismatic grace by Paul Alexander Nolan, was a popular self-help author-speaker-promoter whose life on the road made him a scarce presence for his wife and daughters at home. At the same time, Frank's outsized fame was a choking, inexorable presence even when he was absent.
Conveniently for Frank, his empowerment gospel empowers him to give precedence to his self-actualization as a helper to the masses and to skirt the needs of his wife and children. Frank may be an amalgam of real-life gurus. Some come to mind. There's the Canadian Jordan Peterson, whose manner and glibness mirrors Frank's. The show also made me think of Jack Canfield, the creator of mega-bestselling "Chicken Soup for the Soul" books. Canfield's son, Oran, penned a scathing 2011 memoir that described a family wrecked by a famous, absentee father's drive to be a success by preaching success. Frank wasn't that terrible yet, but his public and his rift at home were trending.
The show opens with a solo song in which Frank, calling from his car, pleads with his sixteen-year-old daughter Alice (Samantha Williams) to connect with him. We learn that the call is a flashback to a few hours prior and that Frank was hoping for a reconciliation with his daughter. He had popped home unexpectedly between flights in hopes of taking Alice to dinner for her birthday. A happy reunion falls apart when the serious-minded Alice, a champion debater, lightly but sincerely mocks her father's schtick as facile and gimmicky. When Frank urges Alice to give up birthday plans with friends to join him for a steak, Alice has her first full-blown fight with her dad. A whopper. Thus the call from the road to make up. Alice doesn't answer the phone. Dad crashes his car an hour past his departure time, on a road far from the way to the airport. The facts are troublingly odd. The family knows Frank never missed flights and wouldn't lose his way to the airport. Alice blames herself for his death and sets out to piece together the sequence of fatal events.
And that's just the first few minutes of the show. Alice is the center of the rest. The show replays the action several times, revealing new details and emotional connections to a host of characters. Among the brilliant pieces in this musical is the way it highlights the profound features of everyday relationships, between parents and kids, school friends, students and teachers. Creator Johnson finds lots of humor in the everyday, too. What's more, nearly all the action happens in songs; giving the emotional turning points extra power. Action is punctuated, too, by the gorgeous tight harmonies of a trio of playfully rude"furies" who come in and out of various roles. It's all aided enormously by Johnson's lush, clever, musically bright score that comes with stunning orchestration under the baton of Broadway vet Chris Kong. Some standard fare in the musical theater toolkit is absent. There's no love interest. There are no big dance numbers, although the show's quick-paced blocking is rhythmic and often balletic. The women are all strong singers, but there is only one man in the show, Frank, whose songs Nolan sells mostly on the strength of his acting. The absence of strong male singers sets the vocal range of the show. It also highlights the world within the relationships among the women. It works, though it would be interesting to see how Frank's character would play were his charisma heightened by a seductively confident, beautiful voice. Other productions of "Life After" have cast it thus and that reportedly works, too. Maybe not better, though. This show, with this cast and orchestra, is as perfect as musicals get. Other standouts in the cast include Northwestern graduate Lucy Panush as Alice's adorably awkward friend, Jen Sese as a cool schoolteacher, Skyler Volpe as Alice's overlooked sister whom no one should overlook, and Bryonha Marie Parham, as Alice's mother whose beautifully sung "Wallpaper" stopped the house cold. I choked up several times. I was undone by the last number, "Poetry," Alice's humble paean to her dead father whose substance and deep influence on her she comes to fathom. I hope to piece myself together by taking friends to see this marvelous show.
"Life After" at the Goodman Theatre, 170 North Dearborn, (312)443-3800, goodmantheatre.org. Through July 17.