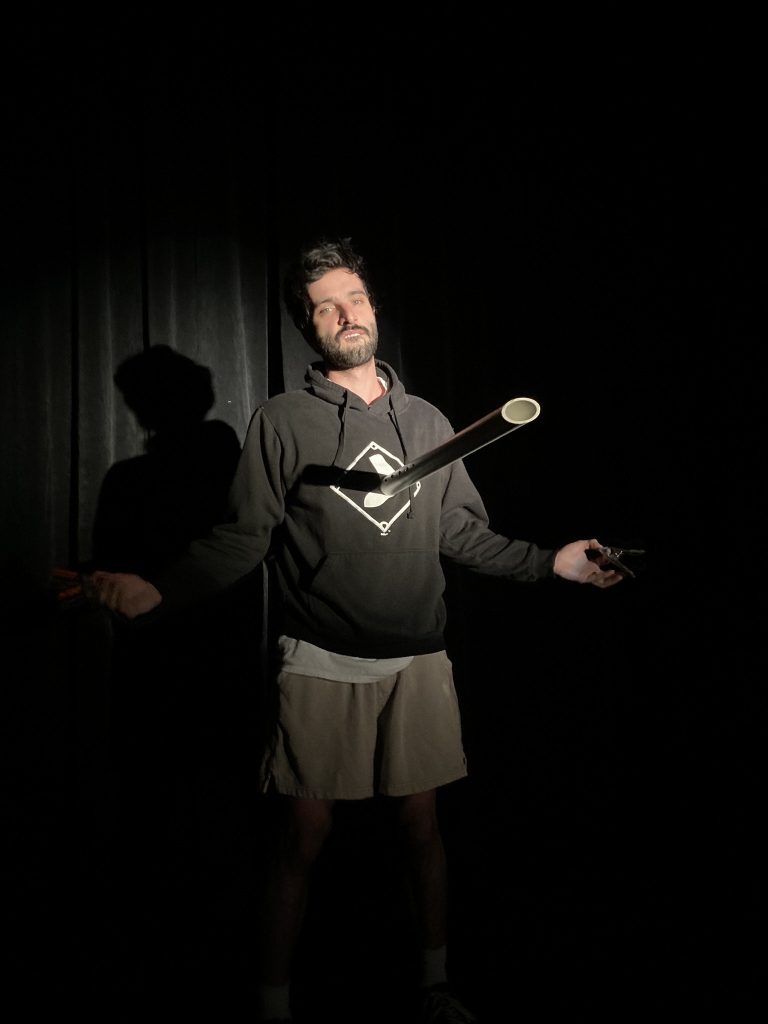 Steak Richardson, founder of HATE/LAB and director of "Perforated Play," has me enter the space and take my seat a second time. Even in this early preview of the show, he wants to get a feel for how audience members might encounter the space when they arrive. The actors run fight call using the new pole—the play's central prop that skewers all three of them during the whole runtime. Actors Ryne Nardeccia and Dana Pepowski, who play Matt and Alice, quickly refine their method of falling to the ground safely. Donaldson Cardenas, who plays Bobo, proposes an idea to the stage manager about how he can modify his new costume to make the pole appear to be piercing his arm. The play opens in two weeks, and everyone's getting down to the granular. It's near the end of a constantly evolving, constantly adaptive process.
"Perforated Play," written by HATE/LAB member Jake Flum and produced in collaboration with Runaways Lab Theater, tells the story of three people who find themselves impaled together on the same iron pole due to an unseen accident. Two of the victims are Matt and Alice, a millennial ex-couple who never expected to see each other again, let alone like this. Yet they lose no time bickering over hurt feelings and old grudges despite imminent death. Bobo is the third victim who contrasts with the ex-couple through his social class, wit, age and uniquely harsh past—imagine a Martin McDonagh character crashing any given play by Neil LaBute. Nobody wants anything to do with anyone else, least of all in order to stay alive. With time and gradual blood loss, their talk turns from interpersonal sniping toward more expansive concerns: the future, technology, self-actualization, class, trauma, and who was responsible for running over the family dog.
HATE/LAB debuted the play at the Facility Theatre in Humboldt Park, which reminded them fondly of the former Prop Thtr storefront in Avondale, shuttered in 2020. Steak Richardson first got involved with the Prop Thtr as an intern in 2019. He offered to host a recurring show for their annual short play festival, Rhino Fest. Prop Thtr had an available spot on Monday nights but stressed they didn't want to use the descriptors "variety" or "cabaret." Yet the show that became "I HATE MONDAYS" became just that: a variety-slash-cabaret performance of music and original short plays.
"I wore a cowboy hat and spruced myself up a little bit," says Steak, "And I performed my own work every night that we had a show…Then I approached [Prop Thtr cofounder and executive director] Stefan Brün and [artistic director] Olivia Lilley about turning it into a regular thing. And it turned out pretty successful."
A group of regular contributors began to coalesce. "We had an ensemble forming of people who would help me out with my solo stuff, and that evolved into a weirder, larger thing with multiple people." Among that ensemble was writer and actor Jake Flum, who regularly contributed to the weekly show. "We started calling that crew HATE/LAB, kind of making fun of the people who were already becoming my friends, the Runaways Lab Theater. Because every theater company's a 'lab' right now, right?"
"The name has nothing to do with hating things," Steak clarifies. "Except maybe just everything."
After the 2020 lockdown forced theaters to close and theater-makers to lay low, Steak and Jake began devising "Animal Play," which became the company's first full-length script. It debuted in fall 2020 at Logan Square Park to a socially distant audience, eager to see a live performance for the first time in months. With its depiction of two characters forced into codependence while trapped in an uncertain void, it hit a chord with its audience—the pandemic not directly referenced but palpable under the surface. HATE/LAB was encouraged to mount another full-length production and called upon their friends at Runaways Lab Theater to co-produce.
Steak and Jake noted how much they borrowed from their experiences in "Animal Play" to create their new production. "'Animal Play' totally had some COVID themes," says Steak. "You know, people being stuck for months together, and ['Perforated Play'] is the same way. But this one, I think we're amping up the disaster, the trauma, the quote-unquote 'bad vibes.' What can you find out of that? The humanity in the grotesque. The grotesque situation COVID put us in. What new things can be created in a short snapshot of disaster?"
Production duties were split, with Steak set as director and Jake as playwright, and the script left open to further refinement during rehearsal. Actor Ryne Nardecchia says of the rehearsal process, "Nothing was concrete from the get-go. It constantly does feel like it's changing."
Jake used a visual approach to creating the script when it came to the writing process. "I learned a lot from 'Animal Play' about how important it was to return to shapes and perspective for theatre." Instead of the Beckett-esque circular structures that made up "Animal Play," Jake wanted to get even more minimalist. "'Perforated Play' has no choice but to go forward. This play begins on one end of the room and ends at the other, and that's the entire show."
While using lessons from the past, the new play also encouraged a new way of working. "The first person that we brought to the team was Jessie McCarty as a dramaturg," says Jake, who had not worked with a dramaturg before. Jake credits Jessie with providing critical insights that enriched the play's world and social point of view. "This play is now very much associated with ruin and decay and ecological collapse. It all was added in by Jessie making connections that I didn't see there."
Steak experienced new methods of working as a director, opting to audition new actors instead of pulling from their ensemble of past collaborators. "I only worked with the same amount of people before the pandemic," says Steak. "So it was nervous for me [sic] to audition these people, which we had never done." With new blood in the company, Steak felt it was vital to encourage a sense of play, collaboration and camaraderie. "You can only do good work with people you're friendly with," says Steak. "You need that sort of punk attitude. We're friends goofing off and trying new things every day. I think it's the only way that a theater company can really survive post-pandemic."
The cast embraced the script's challenges, taking its creative restrictions head-on. For one, all three characters face the same direction while impaled on the pole, which means none of the actors ever fully see the other two. Actor Donaldson Cardenas relished this opportunity: "I think it's a really interesting challenge as an actor to be on stage for forty-five to fifty minutes, however long we're up there, to figure out a way to communicate with another actor without looking them in the face."
Actor Dana Pepowski embraced playing someone who existed almost line to line: "Having blanket statements can be comforting as an actor. But Alice is empty inside—there's so much to her and there's nothing at all. I think it's the situation and the type of language that Jake uses, where she's really fun because the language is so cool and off-kilter. It's really fun to explore speaking off the top of your head rather than, 'Everything means so much!'"
"Perforated Play" is not afraid of diving back into the lessons from the lockdown, pandemic fatigue be damned. After all, the central, brutal metaphor is how disasters force disparate people into reluctant (if not resentful) cooperation. "All three of these people, from a socioeconomic standpoint," says Ryne, "Are in very different places, and yet they're all completely screwed. It doesn't really matter where you stand in the world or how much control you want to have."
"'Perforated Play,'" says Jake, "Is this feeling of the end of the line. So let's turn around and see who are you here with. Who are we to each other? We have almost nothing in common. But the reality of this being a survival story and the irony of that is something, hopefully, that will ring true when people see it… like, 'Damn, I'm really stuck here with you?'"
"Perforated Play" is running through July 31 at the Facility Theatre, 1138 North California. Tickets start at $9 here.