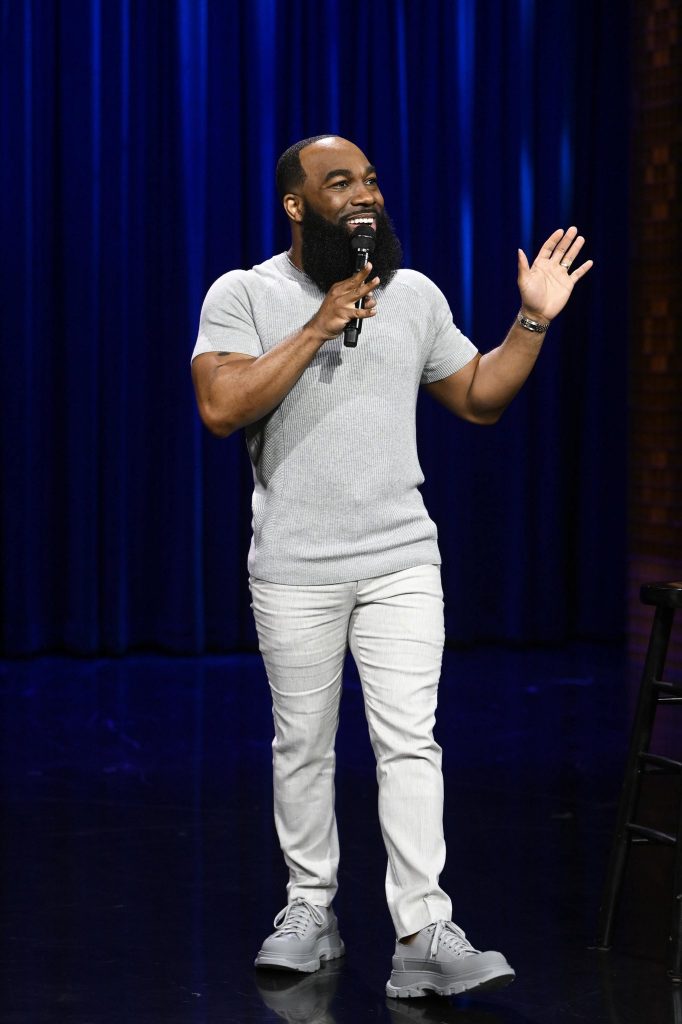 The last time I spoke to comedian and actor T. Murph, we were standing outside the now-shuttered North Bar in Bucktown a few nights before his first special—a half-hour that served as the premiere episode for the second season of "Kevin Hart: The Next Level"—was set to premiere. A full-time professional barber up until two years before that, he was still cutting hair but his comedy career was on the verge of taking off and despite his down-to-earth demeanor, his excitement was palpable.
Four years later, with heaps of next-level comedy experience under his belt—including two seasons of acting in the regular role of "Clovis" on the Hulu comedy series "Woke"—Murph sounds just as down-to-earth, but with a bit more certainty around both his goals and his successes. "I think 'Woke' really helped me become a more well-rounded comedian overall," he says over the phone. "It gave me an idea how to relate to a different audience… and now if I'm onstage, sometimes it will be a very energetic performance and sometimes I can go a little dark with it. It's just about finding the balance."
And though he gets recognized a lot more for his acting work now than his stand-up ("People will be like, 'Hey man how do I know you?' I do comedy… 'Nooooo…' Oh, I act… 'Clovis!' Yeah, that's me."), stand-up is still his first love and his focus going forward.
"Stand-up is what got me here so I cannot let that muscle go without being worked," Murph says. "So I have to continue to get out there and get the reps in. The best way to gauge your stand-up is to go out on the road in front of people who don't know you, who aren't familiar with you or see you as a celebrity, you know what I mean?" To that end he's been touring the country, with gigs all over the place, from Colorado to Tennessee and Virginia to Mississippi. "I go to Seattle this weekend and last month I did Tempe, Arizona," he says.
But Chicago is his home, and The Laugh Factory is his home club. "I like Laugh Factory because it gives you a diverse audience and you get a chance to gauge whether your material works in front of a conservative crowd, a liberal crowd, people from the South Side, the North Side, as long as you can make people in there laugh I feel like you'll be fine," he says. "That's what I like about the Laugh Factory compared to other clubs where there's just one specific demographic of people… Laugh Factory people are coming to laugh, so if you're funny you're gonna feel that." The almost 300-person capacity doesn't hurt either. "It is a big club," says Murph, "So the laughter in there is different."
This Friday and Saturday, Chicago audiences will get a chance to see T. Murph's comedic skills on display at his home club as part of Lowkey Funny on August 5 at 9:30pm and Chicago's Best Stand-up on August 6 at 7:30pm. He's working on getting a fresh hour of material so he can record another special, while also hitting the grind in search of another role as a series regular on a show. "I see a feature film in my future," he adds.
So what can audiences expect from a T. Murph performance? "I'm not going to say what they can expect to see but I can tell you what they expect to do and that's laugh," he says. "There's so much comedy that's so political right now either one way or the other way and that's all people talk about right now. I'm gonna make you laugh."
Before we got off the phone, I ask the former barber if he still cuts hair. "No, I don't," he says succinctly. "I cut my kids' hair during the pandemic.They got a couple haircuts out of me, but that was it. I don't cut anybody's hair. Nobody." The transition from barber to entertainer is complete.
T. Murph performs at 9:30pm, August 5 and 7:30pm August 6 at Laugh Factory Chicago, 3175 North Broadway, (773)327-3175 or laughfactory.com/clubs/chicago.