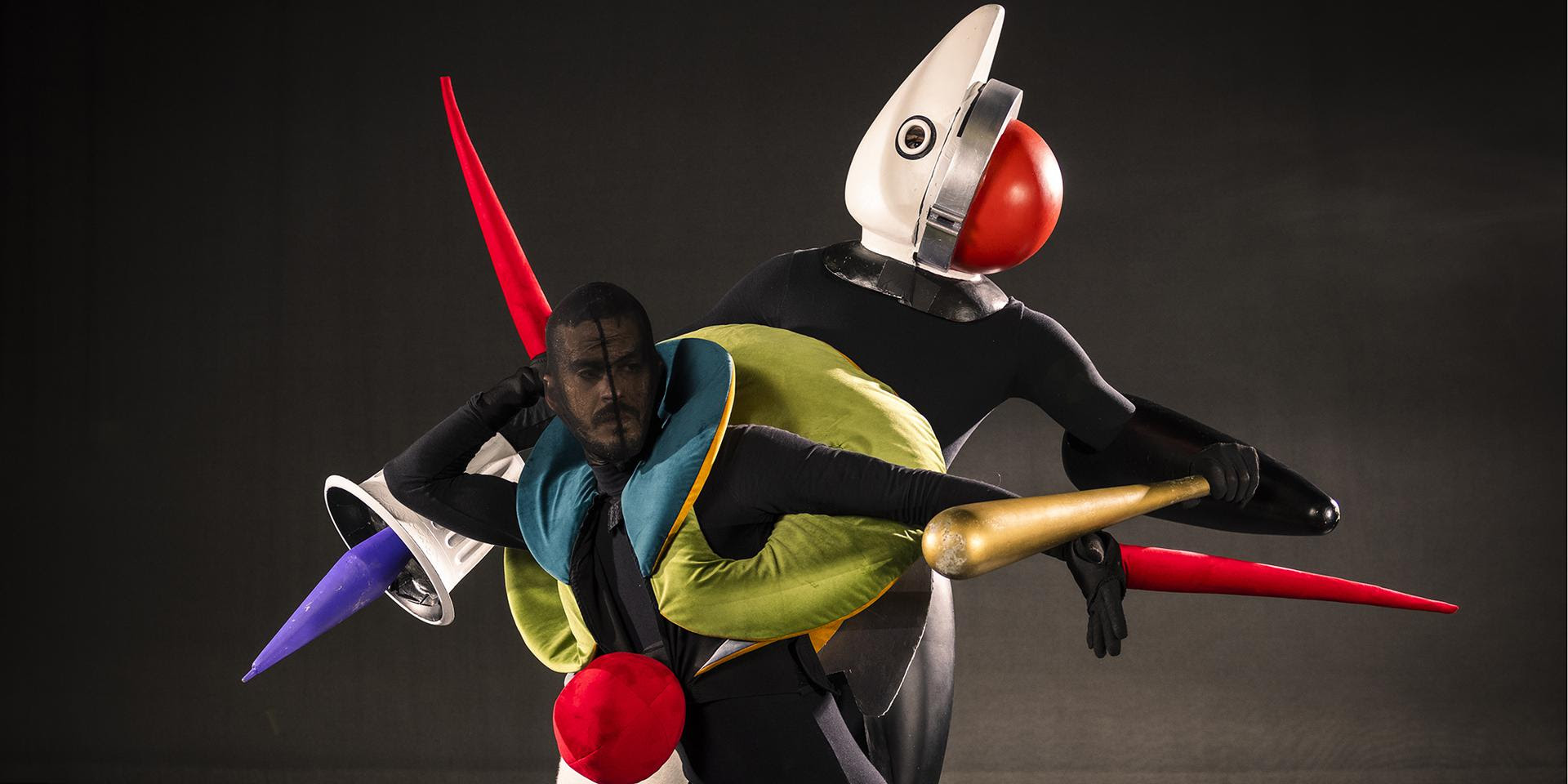 It's been 101 years since Bauhaus artist Oskar Schlemmer first staged his avant-garde "Triadic Ballet" in Stuttgart, Germany. Hedwig Dances' sequel, premiering this weekend at the Ruth Page Center for the Arts, is a testament to how art can be of its time as well as inspire future generations; how it can be in conversation with the past while challenging the present; and how this process spirals virtuously outward like the metallic skirt created a century ago that spins again in 2023.
Hedwig's forty-five-minute piece, "META | MOR | PHOS," also premiered in Germany, co-produced by the Bauhaus Dessau Foundation last fall, where reproductions of Schlemmer's bright, geometric costumes were built. Hedwig founder and artistic director Jan Bartoszek collaborated with Bauhaus researcher Torsten Blume on dramaturgy, and made it clear that her piece is a response to Schlemmer's ballet, not a re-creation. Bartoszek took Schlemmer's theme of man's relationship to technology—idealistic at the time—and put them in relationship to the greater natural world. The necessity for the forces of man, machine and nature to remain in balance creates a new, stabilizing triad.

Bartoszek commissioned additional costumes from sculptor Jacky Kelsey, inspired by the life cycle of insects. At the Chicago Puppet Studio, Kelsey created huge, velvety purple pupa from which spiky, adult imago emerge. The sculptural costumes in "META | MOR | PHOS"—built from fabric, wire, foam, mailing tubes and rubber playground balls—restrict the dancers' range of motion and, in some cases, field of vision. Like Schlemmer, Bartoszek molded the choreography around the objects, tracing geometric shapes through space that mimic and extend the strong lines of each costume.

The result is fascinating, playful and downright trippy. Figures parade toward the audience like a Kandinsky come to life. A teeming throng of creatures weave, wind and bobble through their minimalist landscape with serious intention, conveying a steady dignity through moments that, to us humans in the audience, appear humorous or weird or kinda cute (see purple pupa). The Hedwig dancers shape-shift, swapping and recombining costume pieces in a figurative and literal evolutionary dance. In one particularly hypnotic sequence, Jessie Gutierrez, Paula Sousa and Rigo Saura pull black netting over their heads and gloves over their hands, receding into the background to puppeteer a floating giant that bursts into pieces and reassembles into a new form again and again.

Also on the program is "SYZYGY," a short work by Los Angeles-based choreographer Mike Tyus and a fitting companion piece to "META | MOR | PHOS." Tyus' piece is also triadic; Alex Meeth, H. Menes and Paula Sousa travel back and forth across the stage in separate, parallel orbits. But entropy soon emerges, paths cross, collide, converge.

The April 15 performance includes a post-show discussion with Bartoszek, Blume, Kelsey and the company, and on three evenings attendees can schedule a pre-show photo shoot with the Bauhaus costumes.

Hedwig Dances' "META | MOR | PHOS" and "SYZYGY" at the Ruth Page Center for the Arts, 1016 North Dearborn, April 14, 15 and 21 at 7:30pm, April 22 at 3pm & 7:30pm. $20-$30, Bauhaus costume photo session, additional $25. Tickets here.